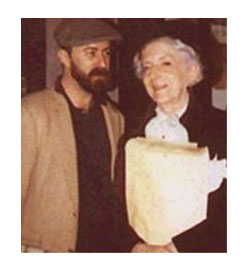 Quentin Crisp was such an extraordinary individual who left a strong impression—both positive and negative (if it was negative, he was always very polite about it!)—on everyone he met. Even seeing him for the first time was rather unforgettable.

One of these people on whom Quentin left an indelible impact is Guy Kettelhack. He shares with us these insightful articles on Quentin Crisp: All You Have to Wear, The Enigma of Denis Pratt, and Ancient, Glittering & Gay. Also see his article at NightCharm.

David McReynolds, well-known peace activist for the War Resisters' League and former Presidential candidate for the Socialist Party USA, lives in the same neighborhood as Mr. Crisp and would often take Quentin to lunch and to the movies. Read his Notes on Knowing Quentin, written especially for Quentin Crisp Archives. Also read his essay on Quentin Crisp: The Radical. Also, read his essay for Quentin Crisp: The Naked Bon Vivant! A Centenial Celebration of Tributes!

Anne-Margret Bellavoine lives in Anaheim, California, and reviews plays for local theater groups. In the early 1970s, she modeled alongside Quentin Crisp in London's East End! Read her Remembering Quentin Crisp, written in August 2005 for Quentin Crisp Archives, and enjoy a special glimpse into a very special place in time.

Robert Rodi provides us to read Being Your Spectacular Self: A Nod to Quentin Crisp. Mr. Rodi is the author of six novels, the most recent of which is Bitch Goddess. He is also a screenwriter, a comics scripter, and a founding member of the Chicago gay performance troupe, the Pansy Kings.

Carved in Stone, written by Jeffrey Hartgraves, was presented by The Eureka Theatre Company in 2003. Leon Acord portrayed Quentin Crisp in the production and has written Becoming Quentin Crisp in response to his preparation and presentation of Mr. Crisp in the production.

Actor Stephen Sorrentino writes about the significance of Mr. Crisp in his life and about the time they worked together in the movie Homo Heights in his essay Crisp Star Quality.

Also Quentin Crisp Archives is pleased to have Kira Barnum's Still Here; Michael Angelo Tata's Hell's Angel, an essay about his first encounter with Quentin Crisp and then, later, teaching a Quentin Crisp course at Hunter College; producer Michael Hirtz writes about working and traveling with Quentin Crisp in the 1980s in Memories of Quentin Crisp; and Frank Mitchell shares his personal telephone relationship with Mr. Crisp in Suffering a Fool Gladly.

On March 3, 2000, many of Quentin's family members and friends came together to share in the memorial An Evening for Quentin Crisp at Cooper Union's Great Hall. Read all about that incredible evening—complete with speaker bios and a gallery of pictures taken that special night. Click Quentin Crisp 1908–1999, to read the memorial tribute booklet which was given to each audience member at An Evening for Quentin Crisp.

Check out the pages for Quentin Crisp: The Model Years to learn more about Mr. Crisp's life as a life model. Also, read some of his letters to friends and fans at The Quentin Crisp Letters section!