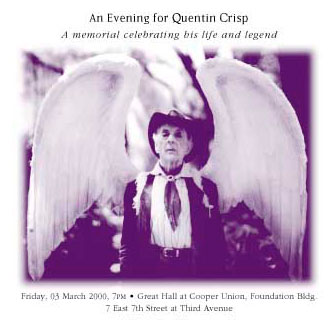 AN EVENING FOR QUENTIN CRISP
A Memorial Tribute



On Friday, 03 March 2000, the Estate of Quentin Crisp and Cooper Union presented the memorial, An Evening for Quentin Crisp. Various individuals were asked to write a few words on the life of Mr. Crisp and his significance to them. These eulogies were then gathered into a small booklet and given to the audience as they entered the Great Hall at Cooper Union.

Included in the booklet are two essays and one poem written by Quentin Crisp. The first piece, "What Does It Mean To Be Human?," was written during the summer of 1999 in New York City. I believe it was in August or early September, while he and I were working on the Dusty Answers manuscript and QPB's Omnibus, that Mr. Crisp dictated this essay as a response to Richard Connolly's question of the same title.The complete version of this essay will be included in Dusty Answers. "Do You Believe In God?" is excerpted from Mr. Crisp's book The Wit and Wisdom of Quentin Crisp, edited by Guy Kettelhack. "I Will Make Music" is also part of Dusty Answers, which will include Mr. Crisp's collected poetry.

Click any name below to read the contributor's homage to Quentin Crisp. The names are in order of appearance in the An Evening for Quentin Crisp tribute booklet.



---
Photograph copyright © Panja Jurgens. All rights reserved. Used by permission.
Image is inside flap of the invitation to
An Evening for Quentin Crisp
memorial.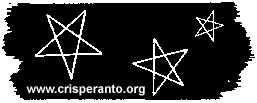 Site Copyright © 1999–2007 by the Quentin Crisp Archives
All rights reserved.