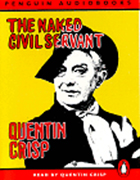 Author, performer, wit, and philosopher, Quentin Crisp lived "in the profession of being" in London and New York. Notorious for his individualism and unique style from the 1920s through the 1960s, Quentin Crisp gained further celebrity in 1968 with the autobiographical publication of The Naked Civil Servant (made into a movie in 1975 starring John Hurt). At the age of 72, he moved to New York City, achieving a lifelong goal. Throughout the 1980s and 1990s, Mr. Crisp toured his one-man show, An Evening with Quentin Crisp. He appeared in various stage productions, movies, and commercials. Mr. Crisp wrote movie reviews and an array of articles for several newspapers, magazines, and Web sites. He authored several books, including Resident Alien, How to Become a Virgin, Manners from Heaven, and The Wit and Wisdom of Quentin Crisp (edited by Guy Kettelhack).

Quentin Crisp died in his sleep from a massive heart attack on Sunday morning, November 21, 1999, at Emma Ferguson's house in Manchester, England. A private ceremony for his cremation took place on Thursday, November 25th. Mr. Crisp's ashes were flown back to New York City and delivered to Phillip Ward by Chip Snell, his travelling companion while in England.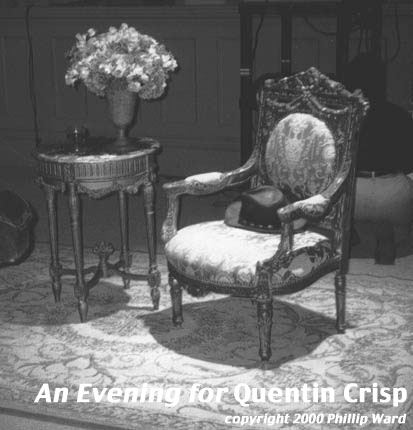 A memorial celebration, An Evening for Quentin Crisp, took place at 7 pm on Friday, March 3, 2000, in the Great Hall of Cooper Union in the East Village in New York City. The Great Hall is known for its open platform for free speech, tolerance, and human rights. It is also from this stage that Abraham Lincoln delivered the speech that led to his nomination for the presidency of the United States. The evening's speakers spoke at the same lectern from which Mr. Lincoln delivered his important speech in American history. What better location for a memorial to celebrate the life and legend of such a great man and philosopher as Quentin Crisp!

Photographs of the evening's celebration are available here. The house photographers for An Evening for Quentin Crisp were Emile Wamsteker, Jean Harvey, and Ella Willliams. Click Quentin Crisp 1908–1999 to read the text of the memorial tribute booklet each audience member received that incredible evening. The tribute booklet was prepared and edited by Mary Tahan, Guy Kettelhack, and Phillip Ward. It was designed by Raquel Shapira and printed by Westprint, Inc. It is printed in black and white on white paper and has 28 pages of text and photographs. All photographs selected from Quentin Crisp's personal collection. Mr. Crisp appears on the cover, staring out with a raised eyebrow. His familiar signature appears below his image.

The evening's speakers were Phillip Ward, Mr. Crisp's three nieces (Denise Pratt-Renner, Elaine Goycoolea, and Frances Ramsay), Penny Arcade, Louis Colaianni, Evan Thompson, Joan Shepard, Stephen Sorrentino, Tim Fountain, Guy Kettelhack, Eric Bentley, Taylor Mead, James Adler, Michael Musto, Sylvia Miles, Ned Rorem, Richard Connolly, Tom Steele, John Hurt (via video), Larry Ashmead, Stedman Mays, and Charles Snell.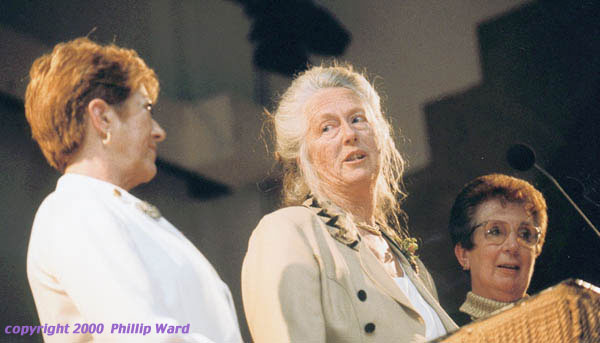 Professor Richard Connolly prepared a silent video montage of photographs taken from Mr. Crisp's own collection of photographs. This video opened and ended with the winged photographs of Quentin Crisp as the "Angel of Peace," taken by Panja Jurgens. The video played the full length of the memorial celebration, quietly on a screen at center stage and on two television sets positioned at both sides of the stage.

In front of the Great Hall stage, audience level, was a reproduction of Mr. Crisp's one-man show stage set: a chair, small table with flowers, and a glass of scotch and water with no ice. Mr. Crisp's famous black fedora rested on the seat of the chair. Four of the columns were decorated with white banners and purple script reading quotes by Mr. Crisp. All of these properties were donated from the heart by these generous individuals: Elizabeth Ryan (floral design), Suri Bieler of Eclectic/Encore Properties, Inc. (stage set), J. Dennis Gilbey of Condy & Reed Graphics (column banners), Debra Juster Sapper of King Displays (the window poster for A Different Light, also used at the entrance to Great Hall).

A reception was organized by Mr. Crisp's great-niece, Michèle Crawford, and was held at the Anthology Film Archives. A grand thank-you to Mr. Mekas for his generosity in providing the space. Aside from much food, drink, and conversation, a viewing of a video by Dean Henney of Mr. Crisp's one-man show, An Evening with Quentin Crisp, was presented. Artwork by Sal Monetti and Spider Webb were on display throughout the space.

The memorial celebration was presented by the family, friends, the Estate of Quentin Crisp, and Cooper Union. The following individuals assisted Mr. Ward as the memorial committee: Mary Tahan (QC agent); Guy Kettelhack (QC former agent, editor, and friend); David McReynolds (QC long-term friend); Stedman Mays (QC agent); Michèle Crawford (QC great-niece); Adrian Goycoolea (QC great-nephew); Oona Mekas Goycoolea (Adrian's wife, daughter of Jonas Mekas); Raquel Shapira (designer of QC invite and tribute book); Charles Barron (writer and QC long-term friend); and Richard Connolly (author and filmographer).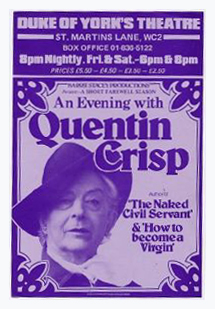 The family, friends, and The Estate of Quentin Crisp wish to thank: Panja Jurgens, John Hurt, Justin Ferate, Cooper Union, Charles (Chip) Snell, Jeffrey Roth, Esq., George Tower, Larry Mass, Tom Beebe, Edwin Burstell, Raymond Luczak, Charles Bjorklund, Eliot Markell, James O'Connor, Brian Holmes, Daryl Edelman, Gwen Waldron, Linda Pitt, Rebecca Segerstrom, L. Brandon Krall, Leslie Barany, Dean Henney, Brian DeShazor, Pacifica Radio Archives, Carmine Palermo (Block Pharmacy), Elizabeth Ryan (floral design), Suri Bieler (Eclectic/Encore Properties, Inc.), J. Dennis Gilbey (Condy & Reed Graphics), Debra Juster Sapper (King Displays, Inc.), Jonas Mekas (Anthology Film Archives), John Glines (The Glines), Tim Bissell (WestPrint Inc.), Corky Lee (Expedi Printing Inc.), Barry Cullen (Sazerac House), Martha Bond (LiLac Chocolates), Cooper (Square) Diner, A Different Light Bookstore (NYC), Kronish Lieb Weiner & Hellman LLP, Inkwell Publishing Solutions, Inc., Casswood Insurance Agency, William Grant & Sons, Brooklyn Brewery, Bacardi, and SAGE (volunteers for the evening).

An Evening for Quentin Crisp memorial was organized by Phillip Ward, Executor of the Estate of Quentin Crisp. He is the editor of Mr. Crisp's book, Dusty Answers (forthcoming), which contains Crisp's standard literary prose, articles and essays, as well as his collected poetry and script of his one-man show An Evening with Quentin Crisp.

A recording of An Evening for Quentin Crisp was made by Brian DeShazor for Pacifica Radio Archives and is available from them. You may contact them at 800.735.0230 or write to them at Pacifica Radio Archives, 3729 Cahuenga Blvd. West, North Hollywood, CA 91604.

Phillip Ward may be reached here.