Written and performed by Richard Louis James, Tea 'N Crisp premiered during Gay Pride week on June 21, 2007, at The Shotgun Players in Berkeley, California. Read on to learn more about this one-man theatrical production based on the life and writings of Quentin Crisp and the man behind the show's creation and production. Please note that Tea 'N Crisp is an unauthorized adaptation of Quentin Crisp's one-man show An Evening with Quentin Crisp



Describe or explain who is the writer and performer Richard Louis James.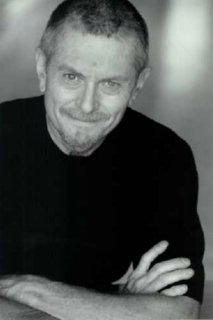 Richard Louis James is a critically acclaimed bay area character actor and company member with Shotgun Players of Berkeley, California. Mr. James has appeared with the Aurora Theater (Berkeley); Center Rep, & Fantasy Forum Actors Ensemble (Walnut Creek); New Conservatory Theater (SF); San Francisco Playhouse; and Rising Phoenix Rep. (NY, associate artist). A few of his critically acclaimed roles include: Lear (King Lear), Lomier (Arabian Nights), Bartholo (The Marriage of Figaro), Salieri (Amadeus), Scrooge (A Christmas Carol), G.B. Shaw (Dear Liar), Teddy (Faith Healer), Noel Coward (Oh, Coward!), Stanislavski (The Death of Meyerhold), Marquis de Sade (Quills) and "Man" in the West Coast premier of Edward Albee's The Play About the Baby. For the past twenty years, Mr. James has been a resident artist with the Eugene O'Neil Foundation at Tao House (Danville, Ca). He received the Eugene O'Neil Artistic Merit Award for 2003. His play Letters Home was produced by the Contra Costa Aids Task Force and his co-adaptation of Charles Dickens's A Christmas Carol has been a staple for Center Rep's holiday season for the past decade. Mr. James teaches voice and diction for the Young Rep Summer Training Program at Walnut Creek's Dean Lesher Regional Center for the Arts.

How did you first become aware of Quentin Crisp and did you ever meet him?

When I first became aware of Quentin Crisp, I believe I was in my late teens. I saw The Naked Civil Servant on my local PBS station. His persona continued to drift in and out of my life for the next thirty-plus years. Then one August afternoon in 1997 I was in the Castro District of San Francisco at a favorite café having lunch. I know it was a Thursday because the local gay newspaper comes out every week on that day and in it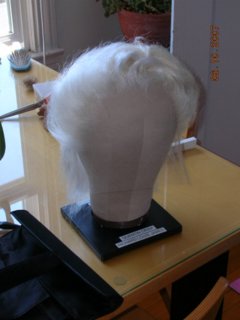 was an article about Quentin. Crisp. He was in the city performing his one-man show at Theater Rhinoceros and promoting his latest book Resident Alien. There I was reading the article and who should walk in but Quentin Crisp with an escort. He sat at the table next to mine.

Apparently this location had been chosen for an interview. About an hour went by and I remember eating my lunch very slowly so as to spend as much time as I could in his presence and eavesdrop. When the meeting was over I mustered up enough courage and asked him for his autograph, which he graciously gave me. I value that moment. Little did I know I would be playing him ten years later.

What kind of affect did learning about Mr. Crisp have on you?

I grew up in a refinery town about thirty miles east of San Francisco. Not the most tolerant place for an effeminate boy. I was orphaned at age seven and my Italian grandmother, already in her late sixties, raised me. Her love and encouragement for the creative side of my life was a big influence in my following my dream to be an actor, but I struggled with what I later realized were homosexual thoughts and emotions and most importantly the strong female spirit in my being. I had no one to talk to about these feelings.

Although there were three decades between us at the time I watched the television production of his life, I found many similarities and began to feel comfortable with my own sexuality. I felt as though I had found a soul mate. I had been given permission to live my life without lies. I think one thing that blew my mind was that famous opening scene when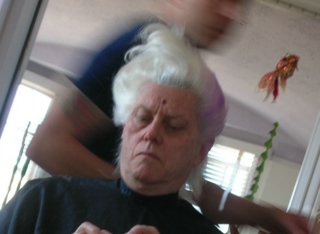 Quentin is dancing in front of a mirror in his mother's dress. Well, when I was a young boy, I used to close my bedroom door and dress up in my grandmother's Victorian wedding gown and pretend in the mirror. I guess I couldn't believe that someone else actually did the same thing.

In my young adulthood there was no such thing as gay rights. You could be thrown in jail for wearing women's clothes. Gay lifestyle was so taboo often you couldn't rent an apartment, even in San Francisco, if you were two men. I came out at twenty-two and began doing drag to satisfy that feminine spirit in me. The danger was there yet it was exciting, but I always thought of Quentin and his courage.

Then I got hired at a gay bar in San Franciso, The Fantasy Club, in the heart of the theater district. During the day I worked as a salesman at Gump's and in the evening I was being paid to perform in drag. I was in seventh heaven! I don't know what path I would have allowed myself to follow if it hadn't been for The Naked Civil Servant and Quentin Crisp. And now I have the tremendous blessing to pay homage to the man who had an influence on my life.

Does anyone in pop culture today compare to Quentin Crisp?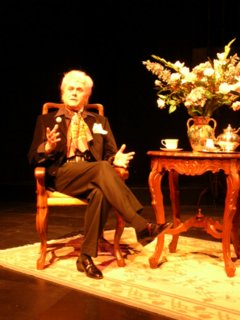 I can't think of any one person who possesses all the wonderful qualities of Quentin Crisp in today's culture. There are certainly many who display individual aspects of his personality. I was watching Charlie Rose the other day and he was paying tribute to Brooke Astor. She comes to mind when you ask this question because she remarked that her philosophy in life was to be kind to everyone regardless of there station and to never lie. I think that was Quentin's greatest attribute.

Can you offer a favorite or special aspect of Mr. Crisp's life that intrigued you?

I think it is what he said in his autobiography when World War II broke out and the Germans were bombing London. He was safe in the country but quickly returned to the city because he couldn't stand to be away from the great drama of the century. There is a lot to be said about our own lives in that.

How has Quentin Crisp influenced or changed you life?

In addition to what I said earlier, spending five years developing this production has brought me very close to Quentin's spirit and I realized that his words coming out of my mouth was echoing my own existence and that the opportunity to share his philosophy about life to others is very powerful. It's taken sixty-three years to attain wholeness to my being and I credit Tea 'N Crisp as a breakthrough.

How did the Tea 'N Crisp script happen? What prompted you to write it?

Five years ago I got a call from my doctor. He was being given an award for his service to the Rainbow Community Center, an organization that counsels and supports gay, lesbian, bisexual and transgender youth. He asked if I would agree to be one of the performers for the evening's entertainment. He's a wonderful human being and, of course, I said yes. He told me I had ten minutes.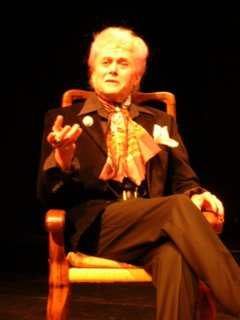 After I hung the phone up I began to think, "What the hell can I do in ten minutes as an actor that would be entertaining to this diverse group of people?" I looked through my library and began to regret saying yes. Shakespeare, Shaw or Mamet just didn't seem to be the right material. Then I was drawn to a book on my shelf that a friend had given to me several years earlier: The Wit and Wisdom of Quentin Crisp. I began to read it and felt as though I had hit the lottery. It was perfect. I decided that I would write a small introduction in which I could transform myself in front of the audience into Quentin Crisp, then used some of the material I had come across in the book. The original script was called Q.C. When I was finished, the room gave me a huge standing ovation. I was stunned and later I thought there was something here to develop into a whole evening.

At first I tried to write a script that compared our lives but it just didn't seem right. Then a friend lent me a video of Quentin performing An Evening with Quentin Crisp in 1980 in Los Angeles. I used that as a foundation and incorporated passages from several of his books and wrote my own material as well. I wanted to perform the piece as if he were alive today so many issues weren't around in 1980.

This is what I think is so universal about Quentin Crisp. His philosophy and wit is just as relevant today as it was then. The name Tea 'N Crisp came from my encounter with him in 1997. He had tea as he was being interviewed and I thought that was an image I liked. My original concept was to have the audience sit at café tables and serve tea and tea cakes during performance. From Tea with Quentin Crisp, I condensed it to Tea 'N Crisp. I thought it was catchy.

What sort of research did you do? What sources did you use in writing the script and did you use his actual words?

I bought every book, video and DVD I could lay my hands on. One of the problems was I didn't want the production to be any longer than 90 minutes and there was too much material. I wanted to use it all. In the beginning I recorded an introduction he did in The Celluloid Closet and used to fall asleep listening to the tape recorder in order to get the rhythm of his voice. The video of his one-man show was indispensable. Most of the words are, of course, his own. How can you write ninety minutes of material in your own words that Quentin spent his entire life developing? Many transitions are a combination of his and my words. And, of course, anything that is topical I wrote.

Was there a scene that was particularly difficult to write and perform?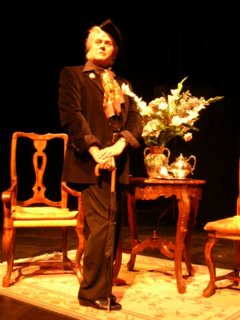 The first four years of development was agonizing because I wasn't happy with the entire content of the script. Something just didn't feel right. After I changed the format it began to flow out of me. The most difficult process was trying to make my own words and sentences flow as if Quentin had written them.

What was in the script that made it so personal for you?

Without question it would have to be where I talk about actors and their lifestyle. I don't think young people will understand because they haven't had the experience but his words ring true. At least I feel Quentin was talking about my own life. When you begin your career as an actor you do take any part you can get. You want the experience and you want to build your resume. As you get older you do become more selective because your time becomes more valuable and you don't want to waste it. Then if you still have the passion and energy you may find that one role that has a special quality to it. Quentin Crisp is that role for me. It requires a great deal of energy to perform and I think you really have to love the role you assume in every possible way, otherwise you are just phoning in the performance. Quentin says an actor finally enters the profession of being and I believe that is what has happened with Tea 'N Crisp. I've been blessed to play some great roles in my life but none of them has brought me the personal joy and total fulfillment as that of Quentin Crisp.

How difficult was it and what was it like to develop the characterization Quentin Crisp?

I'm extremely critical of anything I create. I become neurotic. There was a lot of self doubt that I could pull it off. For one thing, I'm taller than Quentin and he had a smaller frame body, so I had to battle those issues in my mind. The bone structure of my face is different. I wasn't sure my writing was going to be any good. Would I sound like him? All those landmines artists have to dodge in their creative process.

Still there was a strong force deep within me that kept me on my path. I knew this was a very special project that I had to do. I'm also very metaphysical and I really believe our souls exist after we leave this planet. The more I worked on the script and the more research I did on Quentin the more I felt like a vessel for his spirit to come through. It was as if I had his approval to represent him. Especially when I was writing my own material and struggling with finding the right words to use. There were times I would finish something and I would hear his voice in my mind saying, "You got me!" That probably sounds a little crazy to some people but all I can say is I have personal experience with a departed partner that supports my beliefs. It was and is a labor of love.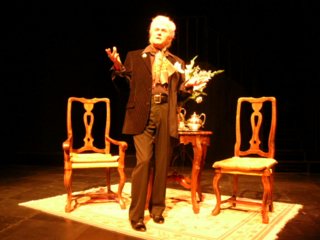 Is there a message to be delivered via Quentin Crisp in Tea 'N Crisp?

Definitely! In fact several people told me that after seeing the production they left the theater feeling good about themselves. Several other people told me it seemed like Quentin was talking directly to them about their own lives. Also, I have people who have emailed me to say they have rented The Naked Civil Servant and Resident Alien to find out more about Quentin Crisp. I have to tell you this cute story. After the show one of the staff came up to me. He is very straight and quite the stud. He said he knew absolutely nothing about Quentin Crisp but after seeing the performance he was now in love with both men. What better endorsement can you receive? I would say the central theme of Tea 'N Crisp is to decide who you are and be it 100% without compromise.

What is for Richard Louis James? For Tea 'N Crisp?

I'm scheduled to be in a new work of Faust at the San Francisco Playhouse playing Wagner around the beginning of the year. Also, I will be in Mrs. Warren's Profession by G. B. Shaw for ShotgunPlayers in 2008. I have an idea for writing a play about the Marquis de Sade. I do know I will keep Tea 'N Crisp alive somehow. There is still work to be done. It would be nice to tour with it. I've had some excellent suggestions, but I have to find backers. I want to submit the script to the New York Fringe Festival and the Gay International Fringe Festival. There are several venues locally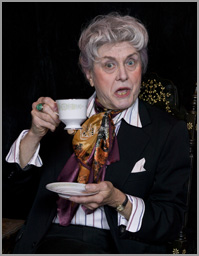 I trust will want to produce the production. A friend suggested that I should contact gay cruise lines. How great could that be?

I understand Quentin Crisp is fading in the UK so it would be wonderful if I could take the production to London. My ultimate dream of course would be able to do it Off Broadway. It's a dream but Tea 'N Crisp is proof dreams do come true.

What was and is the most rewarding outcome from your Quentin Crisp adventure in writing and performing in Tea 'N Crisp?

The energy I received every evening from the audience in accepting this remarkable man and my interpretation of his spirit. It's beyond my wildest dreams. One of the nicest rewards or maybe I should say validation came from the Executive Producer of Quentin's film Red Ribbons. He was in the front row opening night and afterward he told me it was as if he were watching Quentin's ghost. What more could an actor ask for?

Thank you so very much for this interview.


Read David Alexander Nahmod's review of a recent performance at the San Francisco Playhouse in the Bay Area Reporter. Mr. Nahmod is executive producer of the 1995 movie Red Ribbons. .

Read Lee Hartgrave's review online at BeyondChron.