The wise and witty Quentin Crisp lives again in the heart-lifting show "Quentin & I." This clever one-man one-act musical, starring David Leddick as Quentin Crisp, made its New York City debut at
The Club at La MaMa ETC
for two nights on March 6 and 7, 2006.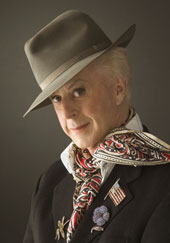 "Quentin & I," The New Mini-Musical, written by David Leddick and Andrew Sargent, is about the flamboyantly eccentric international celebrity Quentin Crisp and Mr. Leddick's twenty-year friendship with him. Out of this friendship comes a new musical, "Quentin & I", that tells the whole funny, touching story in words, song and dance.
With libretto and lyrics by David Leddick, and music by Andrew Sargent, "Quentin & I" has ten original songs, ranging from English music hall to romantic ballad in style. Some of the songs are "I Was Disgusting," "I Welcome a Police State," and "Let's Get Dirty." The show debuted in Miami Beach in April 2005 to benefit the South Beach Gay Men's Chorus.
"Oh, I don't think Quentin Crisp was ever in the closet. And I never was. That's why I wanted to do the Quentin piece. Quentin Crisp was really on the front edge of the real revolution. He came to the United States in the 80's when things were beginning to loosen up. He had always been completely out, all his life. He always wore make-up. He dyed his hair, he wore those clothes, and he was very in your face. In the United States, he didn't feel the hostility he felt in London. Then, he toured with his show in 1981, and he really kind of stood for something. He was a real icon in the gay community. Even though he was very small, and he wasn't a strong person or anything, he was very brave, he was very brave. Now that everybody is thinking, 'Oh God, maybe I shouldn't be gay,' maybe I should, it's time to take the Quentin Crisp message out."
Read about this:
"Becoming Quentin",
a documentary following David Leddick in the process of creating this one-man musical.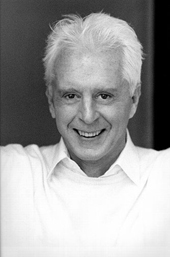 DAVID LEDDICK
, noted gay author and Miami Beach bon vivant, is a legend among artists as he moves between his homes in South Beach, Paris, and Montevideo, Uruguay. He has been a dancer, naval officer, advertising creative director, and a director of TV commercials. Mr. Leddick has an extensive career as an award-winning author of over 14 books. He is the author of the best-selling novels
My Worst Date
and
Sex Squad
, and the creator of the internationally acclaimed photo books
The History of the Male Nude
and
Male Nude Now
. He currently also has a new novel
The Millionaire of Love
. Mr. Leddick also appears regularly in South Beach Gay Men's Chorus concerts. In the past few years, he has been writing and performing in his own original musicals and cabarets, collaborating with Andrew Sargent.
ANDREW SARGENT is well known as the musical accompanist for the
Miami Beach Gay Men's Chorus
. He created songs for the musical, "It's a Fabulous Life," and is the composer of "The Secrets of the Chorus."
LAMAMA ETC
is a world-renowned cultural organization led by founder Ellen Stewart. For 44 years La MaMa has passionately pursued its original mission to develop, nurture, support, produce and present new and original performance work by artists of all nations and cultures. "We believe that in order to flourish, art needs the company of colleagues, the spirit of collaboration, the comfort of continuation, a public forum in which to be evaluated and fiscal support."