"Becoming Quentin"
is a documentary that follows David Leddick
in the process of creating his one-man musical stage show
about his twenty-year friendship with Quentin Crisp:
"Quentin & I."
This DVD recording also includes rare footage
of Quentin Crisp performing his own one-man show,
"An Evening with Quentin Crisp."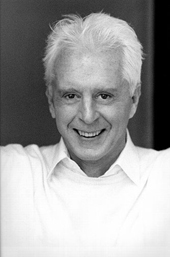 DAVID LEDDICK
, noted gay author and Miami Beach bon vivant, is a legend among artists as he moves between his homes in South Beach, Paris, and Montevideo, Uruguay. He has been a dancer, naval officer, advertising creative director, and a director of TV commercials. Mr. Leddick has an extensive career as an award-winning author of over 14 books. He is the author of the best-selling novels
My Worst Date
and
Sex Squad
, and the creator of the internationally acclaimed photo books
The History of the Male Nude
and
Male Nude Now
. He currently also has a new novel
The Millionaire of Love
. Mr. Leddick also appears regularly in South Beach Gay Men's Chorus concerts. In the past few years, he has been writing and performing in his own original musicals and cabarets, collaborating with Andrew Sargent.