August begins with a revival or is it the resurrection of Quentin Crisp! John Hurt will reprise his most famous role, a character he played to much acclaim in 1975, in a new biopic covering Mr. Crisp's life and the people he encountered while living in New York City during the 1980s and 1990s. The title of this new movie is
An Englishman in New York
, named after a song Police singer
Sting
wrote about the flamboyant gay writer. The movie will be directed by
Richard Laxton
, and produced by
Amanda Jenks
at
Leopardrama
for ITV1.
Laura Mackie
, ITV's director of drama, said it was "a real thrill" to enable Hurt "to reprise such an iconic role". According to its production company Leopardrama,
An Englishman in New York
picks up where
The Naked Civil Servant
left off, which was produced by Thames Television for ITV and was originally transmitted in December 1975. "It is a great honor for us to be working with John Hurt in one of his most seminal roles," said Leopardrama executive producer
James Burstall
.
Leopardrama's press release reads, "New Yorkers immediately embrace Quentin and his witty waspish ways, and before long he is being wined and dined by celebrities in every corner of Manhattan. . . . A shining light of the chattering classes, Quentin befriends Patrick, a young artist who opens his eyes to the possibility that intimate human relationships—something Quentin has spent his life running away from—can work. But, as is so often the case with the maverick gay writer, Quentin cannot help but shock and, at a public event, he quips that the burgeoning AIDS crisis is "a fad". Quentin is suddenly dropped from high society. . . . Then, out of the blue, he is rediscovered by English pop star Sting and immortalized in Sting's famous song "An Englishman in New York". Could this be the start of Quentin's revival?"
Brian Fillis
wrote the movie script. He previous credits include the biographical TV dramas Fear of Fanny, about television chef Fanny Craddock, and The Curse of Steptoe, about Steptoe and Son star Harry H. Corbett. Mr. Fillis recently said, "The pre-production for 'An Englishman in New York' proceeds well; the shoot begins in exactly three weeks time. Yesterday, John Hurt spent the day trying on costumes—and the three wigs which have been created for the role by the wig designer who worked on 'The Naked Civil Servant' back in 1975. A bit of crew continuity which gladdens my heart . . . and John's too, apparently. I'm told that, once in costume, he instantly began to carry himself differently. The hip slid subtly outwards and the head and arm movements became more 'studied'. Mr. Hurt's Quentin Crisp is slowly, gently returning to us after thirty three years."
In preparation for the role,
John Hurt
has clipped away his hair and now sports a baldhead. "It's all gone," exclaimed Mr. Hurt, who has rid himself of his full head of hair for the filming of An Englishman in New York. "It's great for the summer actually, I don't have to worry so much about this heat." He continues, "I'm going to do the last 20 years of Quentin Crisp's life. It's daunting. It's a long way to go back but I'm looking forward to it."
Mr. Hurt burst onto the screen in 1975, with a Bafta-winning role as Quentin Crisp, the self-described "stately homo of England" in the ground-breaking TV movie,
The Naked Civil Servant
. The role, a delicate portrait of steely dignity in the face of brutal mob rule, was a revelation. "That was my break," he says. "Some said it would ruin my career, but it made everything possible."
Mr. Crisp himself would often refer to the actor as "my representative here on Earth", while Mr. Hurt says that his relationship with Crisp (who died in 1999) is sweetly circular. "I shall play him with slightly more cynicism," he says, voice rising to a reedy half-whisper. "More thoughtful this time. It was really
The Naked Civil Servant
in 1975 that put me on the radar. It was so autre, as Quentin would say. Everyone told me not to do it. It will wreck your career. You're going too far. You will be typecast as a homosexual after this. At the time it was considered so outrageous. The mailbag I got after making that . . . the people . . ."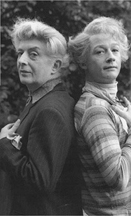 Homophobic insults? "No. Gratitude. It changed people's lives. It was fascinating for me to find out how all these men had been living with this secrecy." The 68-year-old won a Bafta TV award for his original performance.
Quentin Crisp, who once described himself as the "Stately Homo of England", died on November 21, 1999 at the age of ninety.
The Naked Civil Servant
, the first volume of his autobiography, was first published in 1968, and is "seminal" to the Crisp lexicon. The book was published for the first time in the U.S. on September 18, 1977.
Filming for
An Englishman in New York
began in New York City on August 18th, 2008 and concluded on October 9, 2009 in London.
An Englishman in New York
made its world premiere at
The Berlin International Film Festival's Panaroma
on February 11, 2009. A press viewing was held on February 7, 2009. Its English debut was at the
23rd London Lesbian & Gay Film Festival
, with screenings on March 26th and 27th. Click here for more info! Also shown was
Uncle Denis?
, a film by Quentin's great-nephew Adrian Goycoolea!
The movie's New York premiere was on April 27, 2009 at the
Tribeca Film Festival
.