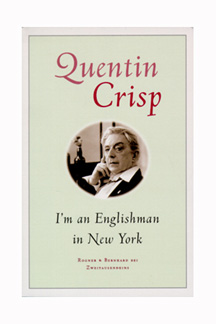 QUENTIN CRISP: I'M AN ENGLISHMAN IN NEW YORK, a book of Crispisms, is the result of more than ten years of work by Richard Connolly, who recorded interviews and conversations with Quentin Crisp throughout the 1990s and has now presented them in book format.

"Professor Connolly," which is how Mr. Crisp addressed him, describes the book as "an act of refining Quentin Crisp for old and new audiences." This book is much a prelude to Mr.Crisp's forthcoming final book DUSTY ANSWERS (the last literary project by Quentin Crisp and edited by Quentin Crisp's last editor and close friend Phillip Ward).

Professor Connolly told the Quentin Crisp Archives, "I think it's important for us to remember Quentin as we knew him, as a truly remarkable spirit, whose life and work influences many, many people."

QUENTIN CRISP: I'M AN ENGLISHMAN IN NEW YORK is a project edited by Richard Connolly, published in collaboration with Rogner and Bernhard bei Zweitausendeins with Circumstantial Productions Publishing, with assistance by Phillip Ward in researching and selecting photographs for publication.

Circumstantial Productions is an independent multi-media company founded by Richard Connolly in 1983. Rogner and Bernhard is part of the Zweitausendeins media group, founded in 1968 by Lutz Koth in Frankfurt, Germany.

Book information:
QUENTIN CRISP: I'M AN ENGLISHMAN IN NEW YORK
Edited by Richard Connolly; German translation by Michael Hein
260 pages with selected images from Quentin Crisp Archives
ISBN 3-8077-0130-3
Available ONLY in German language.

For more information on this new Quentin Crisp book, please click here.


---
Book cover photograph copyright © by Trevor Crone. All rights reserved.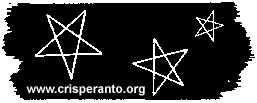 Site Copyright © 1999–2009 by the Quentin Crisp Archives
All rights reserved.